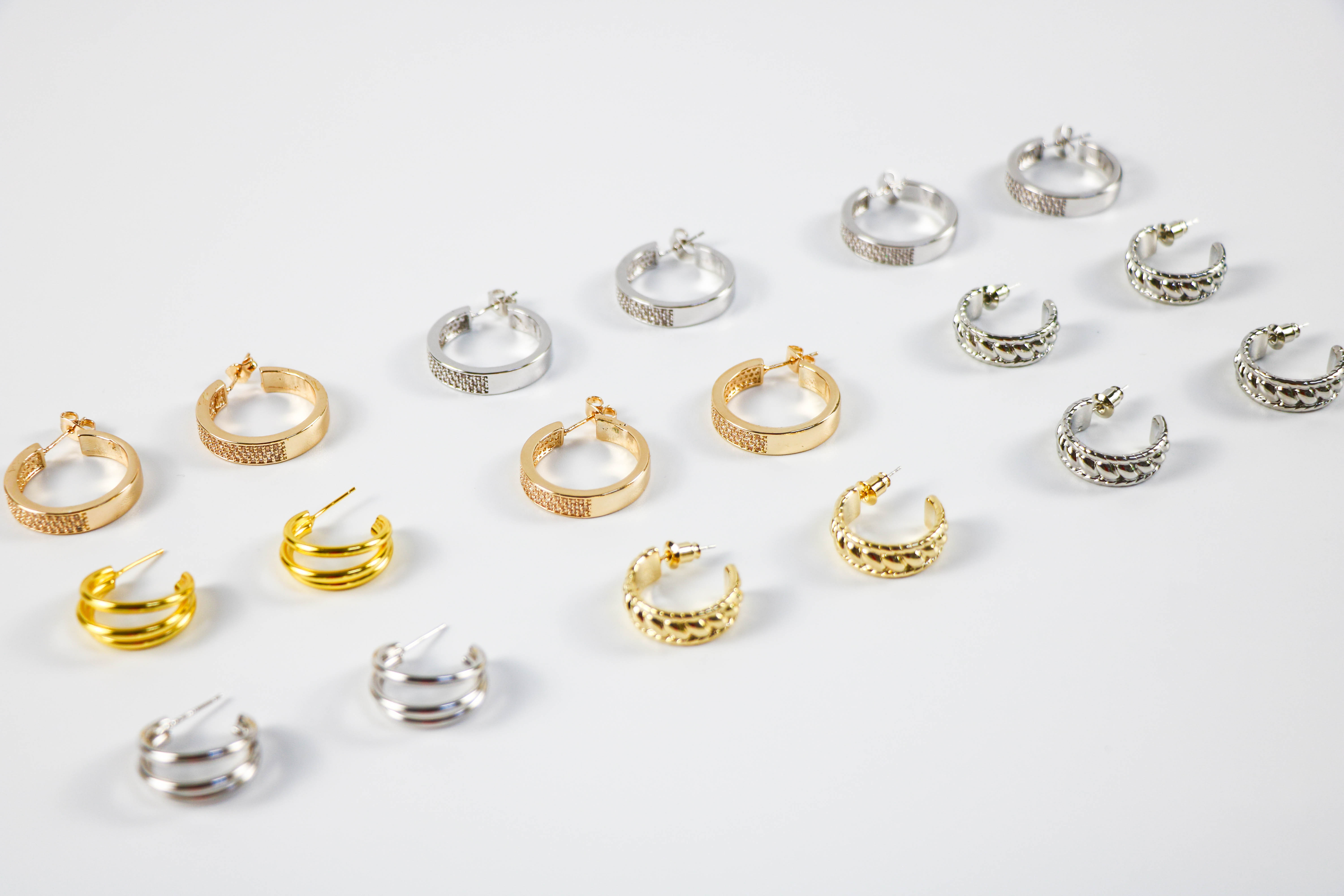 Product Material
I'm sure you have lots of questions when you are getting a new one added to your collection.
Questions you may be wondering:
The better metal it is made, the more expensive it will be?
Which material is suitable for you?
What material is more durable?
Will they tarnish over time?
How long can they be worn?
Are they for nickel-free allergy?
Why is platinum always more expensive?
Gold or silver? Which one is cheaper?
Can I wear 925 Silver into the shower?
Will I have to take off my jewelry before sleep or exercise?
Material

Descriptions

Brass

Brass is an alloy of Copper and Zinc.
The colour of brass is yellow-gold.
Used in jewellery to resemble gold.
An affordable and economical choice.
Widely available and widely stocked.
Can be used in 3D printing.
Their reactivity allows a wide range of colouring techniques to be utilised.
Their surface is usually quick to oxidise and tarnish in the air.
More people are allergic to base metals than precious metals.
Might contain traces of lead.
Can't be hallmarked or used in pieces that will be hallmarked.

Copper

Reddish-orange metal is most often used in alloys, electrical equipment, and jewellery making.
Oxidize easily and tend to be mainly used for costume jewellery.
Do not contain one of the noble or precious metals.
Significantly cheaper compared to other metals.
One of the most popular metals used for jewelry making.
Protective backing on each piece to avoid scratching.
Highly durable

Zinc Alloy

If you don't have a metal allergy, then the zinc alloy should be safe.
The zinc metal will contain lead, nickel, copper.
The leading cause of allergies.
If you bought zinc that's free of toxic elements like nickel and lead, you would experience tarnishing with the zinc alloy. The good thing though, is that the tarnishing will not occur naturally.
Always mixed with other materials in jewelry making.
Non-hypoallergenic.
Durable and strong.

Titanium Steel

Has the highest strength-weight ratio of all the natural metals in the world.
Completely hypoallergenic.
Scratch-resistant, lightweight and easy to colour.
Highly resistant to chemicals and can be easily recycled.
Resistant to corrosion.
Very difficult to solder unless it's been mixed with other metals.
Titanium is not so easy to resize.
Titanium is expensive and rare.
Very commonly used in the sports industry for tennis racquets, bicycles and golf clubs.
Excellent for use in harsh environments.
Ideal for body-piercing jewellery, prosthetics, dental work and surgical implants, due to its hypoallergenic characteristics.
Usually used for watch parts and watch cases.

Stainless Steel

Durable, rust-resistant, non-corrosive with no discolouration or oxidation.
Commonly used for surgical instruments and for industrial purposes
Ideal for use in the jewellery making industry for items such as bead caps, earring findings and watches.

Gold/Silver-Filled

Rated 2.5 to 3 on Hardness.
Yellow, White, Rose and Green Gold can be produced.
Gold is one of the most malleable (easily squashed) and ductile (easily stretched) metals, making it easy to work with.
Gold is resistant to most acids.
Pure gold will not tarnish, however, 14k, 16k, 18k will do, but much less so than Silver and over a long time.
Gold is less allergenic than silver.
More precious and therefore more expensive than Silver.
Can become scratched when worn on a daily basis.
The presence of nickel may not be suitable for metal allergy sufferers.
The core metal is usually jewelers' brass (10% zinc and 90% copper).

Sterling Silver

Can be polished to a luminous sheen.
It is inexpensive compared to gold and platinum.
Good antibacterial properties for items like cutlery.
Durable and has a longer lifespan compared to other metals and costume jewellery.
Silver is highly reflective (it used to be used to back mirrors, but this is now done using aluminium)
Soft, malleable (easily squashed) and ductile (easily stretched).
The softness of silver can also be a disadvantage – it may scratch and bend under repetitive daily wear.
Sterling silver jewellery will tarnish - meaning it may take on a black or green hue.
Silver needs to be cleaned regularly to maintain its gleam.
Silver is sensitive to acids and corrosion and general chemicals.
Some people are allergic to silver due to its copper content.

Platinum

Rated 4.5 on Hardness
Platinum is a silver-white, highly dense, and malleable precious metal.
Because of its hardness, pure platinum is often mixed with other metals to make it more malleable.
The most common metals paired with platinum are copper, palladium, rhodium, iridium, and titanium.
Platinum is about thirty times rarer than gold and four times stronger.
It is super durable and will never tarnish.
Platinum is extremely corrosion-resistant and heat-resistant.
Naturally white and will not fade to yellow.
Hypo-allergenic properties make it ideal for sensitive skin.
The scarcity of platinum and the fact that the density requires more of the rare metal to create a ring, means that platinum jewellery is typically more expensive than pure gold or white gold.
Generally heavier than that made of gold.